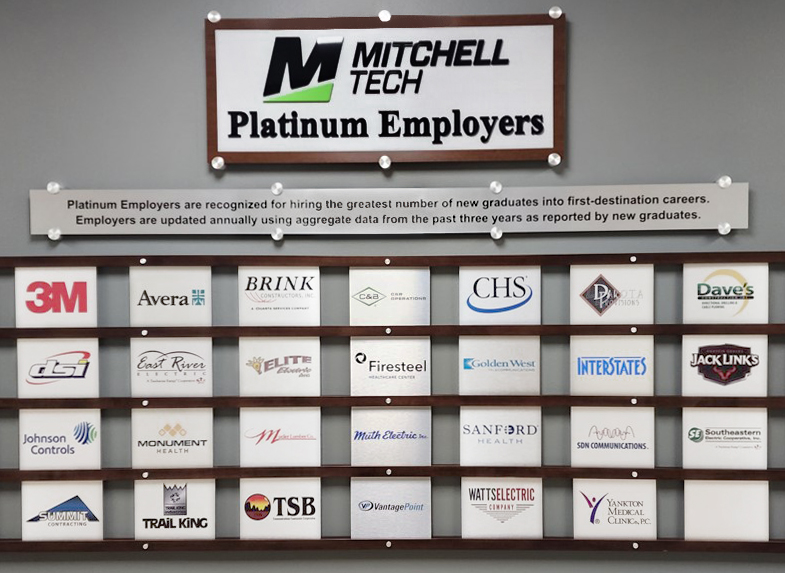 Every fall, Mitchell Technical College announces its Platinum Employer list, recognizing those employers who have hired the greatest numbers of new graduates into their first-destination careers from the college's three most recent graduating classes.
This year's Platinum Employer list, on display in Mitchell Tech's Campus Center, showcases the 31 employers who hired a total 328 graduates from the college's classes of 2020, 2021 and 2022.
"Many of these employers have developed relationships with Mitchell Tech and our students during their education, which has created a natural hiring process for many of our graduates prior to their graduation or shortly thereafter," said Janet Greenway, Career Services and Advising Director for Mitchell Tech. "Most of these employers are located within or near the Mitchell region. We are thrilled that so many of our talented graduates are able to find employment close to home and meet South Dakota's growing workforce needs."
Businesses whose logos currently are displayed include:
• 3M
• Avera Health
• Brink Constructors, Inc.
• C&B Operations (John Deere)
• CHS Farmers Alliance
• Dakota Provisions
• Dave's Construction, Inc.
• Design Solutions & Integrations
• East River Electric Power Cooperative
• Elite Electric, Inc.
• Firesteel Health Care Center
• Golden West
• Interstates
• Jack Links, LSI, Inc.
• Johnson Controls, Inc.
• Monument Health
• Morton Buildings, Inc.
• Mueller Lumber Company
• Muth Electric
• Northwestern Energy
• Sanford Health
• SDN Communications
• Southeastern Electric Coop
• Summit Contracting
• Tessiers
• Titan Machinery
• Trail King Industries
• TSB Communications Contractors Corp.
• Vantage Point Solutions
• Watts Electric Company
• Yankton Medical Clinic
About Mitchell Technical College
Founded in 1968, Mitchell Tech is an innovative leader in technical education and a valued partner in global workforce development, preparing students for career success and lifelong learning in an ever-changing world. The ultramodern campus, found on the edge of Mitchell, South Dakota, is home to thirty-five on-campus academic programs and four online programs. The college prides itself on its regionally unique programs and military friendliness.