Two individuals were recognized for heroic efforts Thursday, October 20 during East River Electric Cooperative's All Employees Focus meeting. Skyler Nieman and Logan Janssen received the Minnesota Rural Electric Association's (MREA) LIFEGuard on Duty Award. The award program encourages co-op employees to make safety a commitment on and off the job and honors individuals who have performed lifesaving activities or prevented serious injuries.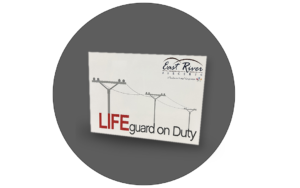 On May 12, 2022, Skyler Niemann and Logan Janssen of East River Electric Power Cooperative were on their way to the Sisseton substation for work that day. They were northbound on Interstate 20 when they saw a collision in the southbound land about a half mile ahead. They did not see the impact but observed what appeared to be a could of smoke from the impact that couth their attention.
As they passed the scene, they looked over and could see a car pushing something on its hood. It was a motorcycle. Skyler did not know if there was a driver on the motorcycle but could tell it was a serious collision. Logan immediately called 911. Skyler turned their truck around in the first median he could find, knowing they could bring a first aid kit and AED as he had these items on his work truck.
When Skyler and Logan got to the scene, about five other people had also stopped and were helping. The injured motorcycle driver was on his side and appeared to be unconscious. One lady monitored his pulse, and when he lost it, Skyler cut off his backpack to roll him over onto his back. One lady then started CPR, and Skyler and the lady continued this first aid until paramedics arrived. They had also hooked up the AED to him but never had to initiate a shock.
"Today, we commend Skyler and Logan as LIFEGuards who took prompt action to provide care to someone injured. They knew they had life-saving equipment on their truck and had the training to provide basic first aid. They lived their commitment to safety today," said MREA Director of Safety and Loss Control, Lidia Dilly Jacobson, and spokespersons of East River Electric Cooperative. "A job well done, Skyler and Logan."